Robert W. Furnas Tour
Brownville, NE
Brownville is a small town in Southeast Nebraska. It was founded in the 1850s, largely by Robert Furnas. To honor him, the Brownville Historical Society created a self-guided walking tour that takes visitors around Brownville to the places Furnas made an impact on. Many of the sites aren't well labeled nor is there any promotion for this tour. The goal of this project was to increase tourist interactivity with the tour and to make it easier to navigate. I created a three part solution to fix their problem.


Part 01 - Poster

In order to make people aware of this self-guided tour, advertising is needed. This poster would hang in the window of the first location on tour-the print shop-to announce where it starts.

It uses a bold type to draw the eye and arrows to lead them through all the elements. The line pattern was inspired by the garage door next to where it hangs. The color was chosen to honor the impact Furnas made on the agriculture industry in Brownville and Arbor Day.




Front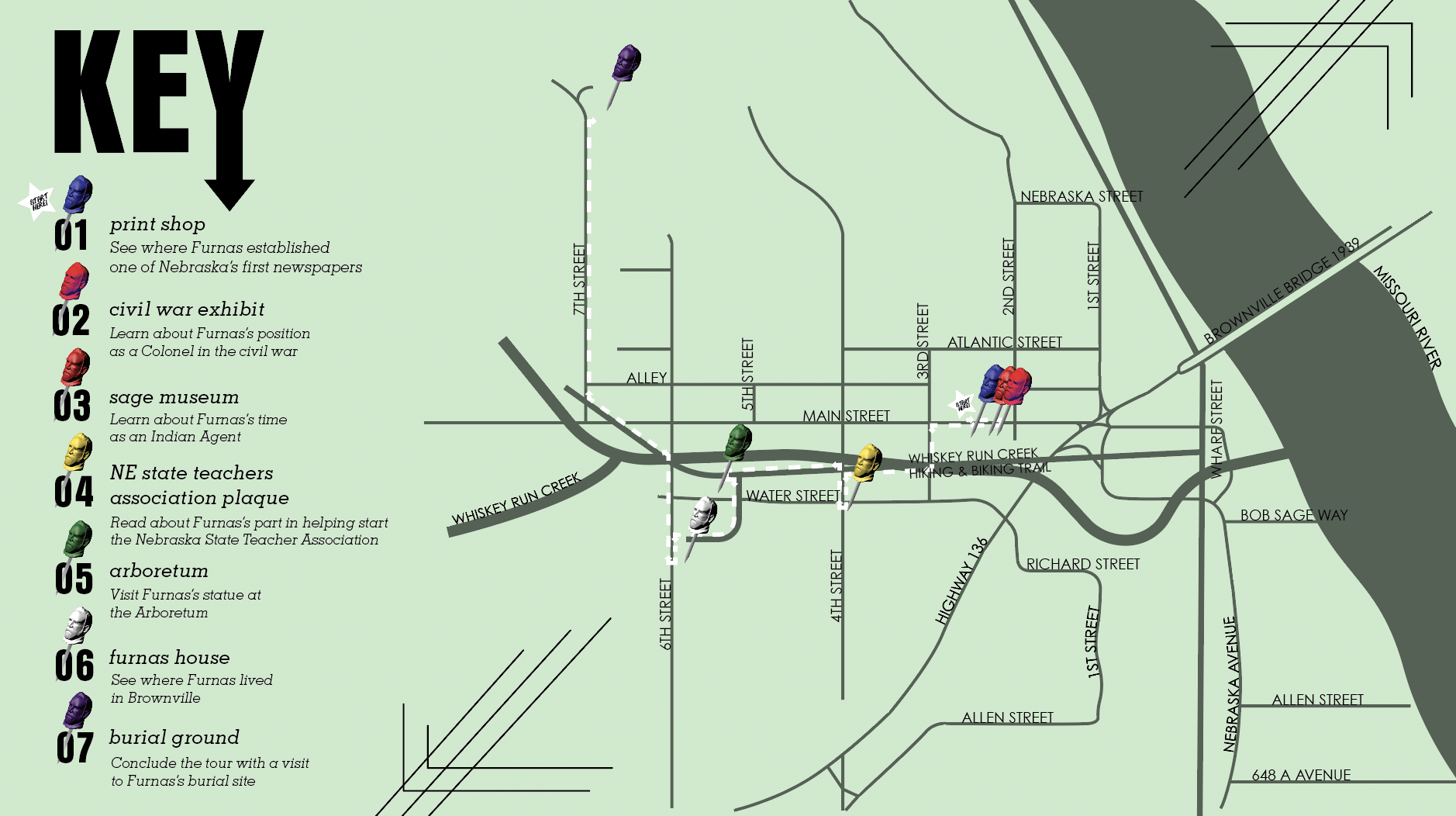 Back
Part 02 - Brochure Map

Once visitors are intrigued by the poster to go inside the print shop, they can pick up this brochure to walk the Furnas Tour at their own pace. Containing only the seven locations along a designated path, it allows the viewer to easily identify where to go. Each location is marked with a specific colored pin with a bust of Furnas. The inspiration for the pins came from the red sphere topped pins commonly found on maps.

Each color for the pins was carefully chosen through extensive research and for ease of identification for the viewer. The blue pin matches the sign for the print shop; the civil war exhibit has a red, white, and blue pin to represent how he fought for the Union in the civil war; Furnas was an Indian Agent with the Omaha Tribe, where red was a prominent color and this will be shown in the Sage museum; NSEA has yellow as an accent color, which is for the NE State Teachers Association Plaque; the Arboretum is green to promote nature; Furnas' house is white to match the paint; and the burial ground is purple because in America it is a commonly associated with death.

The green tint, typography, and pattern are the same as the poster to keep the tour theme cohesive.
Part 03 - Pin Sculptures
At each of the seven locations on the tour, a life-sized, 3D printed bust of Furnas will be placed. Color coded based on the map pins, visitors will match the pins to the sculptures to quickly identify the right location. There will be no confusion when trying to identify the buildings and sites with little to no sinage.
To make these weather resistant, PETG filament will be used for the 3D printed bust and aluminum for the post.